BODYOGRAPHY
Bodyography is a boutique professional makeup line – conceptualised and manufactured in the USA. Bodyography Professional Cosmetics offers mineral based makeup, boasting clean ingredient lists and sleek and simple packaging. Infused with skincare benefits such as fruit and plant derived vitamins and antioxidants, Bodyography is more than just your traditional makeup line. Along with top of the line formulations, Bodyography also offers Vegan, Gluten & Paraben Free products to fit within any lifestyle. The color payoff and quality of Bodyography is clear cut, but what really makes this brand shine is the way the makeup feels on the skin – the weightless effect of Bodyography makeup is incomparable.
At Bodyography our goal is to make women feel comfortable with makeup, both on and off their skin. We believe that every woman is beautiful and has features to enhance in order to make them feel more confident. From natural to spectacular, Bodyography Professional Cosmetics can cover any makeup look for both amateurs and professionals alike. Bodyography is a global makeup brand found in the top salons, spas and beauty supply stores in the USA and in over 50 countries worldwide. This is why Bodyography IS the language of beauty.
Made in the USA
Certified as a Cruelty Free Brand by PETA
Infused with Vitamins, Minerals and Antioxidants for an uncompromised and incomparable finish
Vegan, Gluten & Paraben Free
Simplistic & Effective
Trusted in the beauty industry for over 18 years
Full makeup line including brushes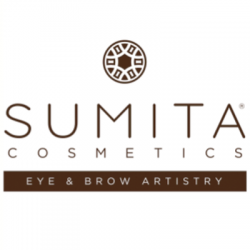 SUMITA COSMETICS 
 A niche brand, specifically developed for eyes and brows. Introducing the modern woman's new best friend. Our luxurious collection combines rich pigments and endless wear to create an unparalleled experience.
Discover Sumita at high-end retailers, fine salons, and spas worldwide. It's our mission to inspire every woman to be bold, beautiful, and iconic.
Create your look, define your world.
SPECIAL OCCASION MAKEUP $85
(Redeemable on Bodyography Products when purchased on the day)
---
BRIDAL MAKEUP TRIAL $100
Includes Lashes 
---
BRIDAL MAKEUP $90
Includes Lashes
Packages can be priced up for Bridal Party and Group Bookings.